Art. IV. Some Notes On the Tents of the Northwest Fur Trade by A. Gottfred.
In which the tents used by the gentlemen and servants of the North West Company and Hudson's Bay Company are discussed.
A firearm and a tent are the two largest expenditures for most fur trade reenactors. Selecting a tent presents a bigger challenge, since they are not as well documented, especially for Canada. Unlike guns, tents do not wind up in the hands of collectors or show up in the archeological record. But, like guns, there are few contemporary detailed descriptions or drawings of them in the Northwest between 1774 and 1821.
Tents and other temporary shelters were used routinely by fur traders. Shelters were needed for the annual journey to and from the Bay or Lake Superior. This trip could take six months, from late April to early October. Everyone had to live in tents while a fur post was under construction (Henry, 657). Even after most people were living in the post, a few hardy souls lived in tents instead (Henry, 555). And when the traders traveled more than a few days from their fur post, the tents were needed.
If you have a birchbark canoe (genuine or facsimile), you can save yourself the additional expense of a tent. The upturned birchbark canoe was used for shelter at night when traveling (Mackenzie, 97; Harmon, 18). A painting of voyageurs made in 1871 by Frances Ann Hopkins shows canoes resting on one gunwale, with the opposite side raised (Newman, Illustrated, 114-115; also in Newman, Caesars, 39). A tarp (possibly the canoe's sail) is stretched from the high side of the canoe to the ground. The tarp can be kept from sagging in the middle by draping it over a long pole. With a warm fire nearby, a canoe could keep travelers comfortable even during an October snowstorm (Henry, 120).
There are only a few contemporary descriptions and sketches of tents used in the Northwest. When taken together, they describe two styles of tent : the wedge tent (a sort of full-height pup tent design) and the Native tipi (tepee).
The earliest clear reference I have found to a wedge-style tent is in 1813, when Alexander Henry the Younger describes a rather unusual setup in which a York boat's contents are protected from the rain :
'At noon rain fell so heavily that we camped, and pitched our tent...The boat was covered with a large leather tent, to keep all dry underneath, by means of a triangle [tripod] set up with three poles in each end to support a ridgepole extending her length ; small poles being then laid from the ridge to the gunnels, and the tent stretched over all.' (May 14, 1813; Henry, 743)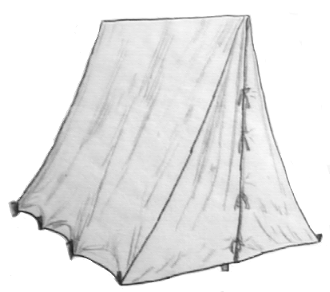 Wedge Tent— Typical wedge tent of the period
The few period (circa 1774-1821) drawings of the tents used by Europeans in the Northwest are by Red River immigrant Peter Rindisbacher. All of them depict wedge tents. Cold Night Camp on the Inhospitable Shores of Lake Winipesi [Lake Winnipeg] in Oct. 1821 is a watercolor that includes six tents (Newman, Caesars, 135). Although it's hard to make out details of several of the tents, one tent (and possibly a second) is definitely a bell-back wedge tent. In a bell-back wedge tent, the back wall of the tent has extra fabric allowing it to extend or 'bell' out beyond the ends of the two sides, creating extra room inside the tent. Two more tents are also clearly wedge tents, although it's hard to tell if they have bell backs or not. The painting The Murder of David Tally [Tully] and Family by the Sissetons Sioux, a Sioux Tribe dates to 1823-1830 (Josephy, 48-49). The tent of the family of Selkirk settlers is prominently featured. It isn't clear if this tent is a square diamond fly (a wedge-shaped tent open at both ends) or a wedge tent, but other details do show up clearly. The tent is supported by a ridge pole which projects past the round end pole ; a wooden tent peg (picket) secures the front corner. Rindisbacher's Departure of the Second Colonist Transport from York Fort to Rockfort, September 6, 1821 shows five wedge tents outside the walls of the Hudson's Bay Company's York Fort (Newman, Illustrated, 132). This all convinces me that wedge tents were definitely used in the Northwest by the Selkirk settlers, and probably by the fur traders also. In Britain and Canada, civilians were familiar with wedge tents. In 1784, British army surveyor James Peachey painted Encampment of the Loyalists at Johnstown, A New Settlement, on the Banks of the St. Lawrence, in Canada (Brown, 218). The Loyalists are living in wedge tents. In 1815, an aquatint of Buckingham Palace includes a square diamond fly being used as a shelter by skaters (Barr, 46).
Many reenactors favor tipis. Here are some notes on what I have been able to find on the subject. In his memoirs, David Thompson describes a tent used in the 1780's on Hudson's Bay. 'Each [hunting] party has a canvas tent, like a soldier's bell tent with the top cut off to let the smoke out.' (Thompson, Narrative, 28) In the 1780's, a military bell of arms was a small conical tent used to store muskets (Darby, 10). Thompson later describes how the tent was put up :
'The tent poles were now cut, and placed to form a circular area of about 12 to 14 feet diameter and 12 feet in heighth ; the door poles are the strongest, about these poles we wrapped our tents, the fire place is in the centre, and our beds of pine branches, with a Log next to the fire.' (Thompson, Narrative, 29)
Note the small size of this tent, compared to modern tipis of 20' or so. Another fur trader, Nor'wester Daniel Harmon, describes how, on January 4, 1801,
'...the greater part of our People (Men, Women & Children) were sent to go and pass the remainder of the Winter in the Plains about two Days march from this [spot], and where they will live upon the flesh of Buffaloe which they will kill themselves, and during their stay there, their Dwellings Will be Tents or Lodges made of the Skins of either Buffaloe, Moose or Red Deer after being dressed or tanned & then sewed together, one of which contains from ten to twenty of those Skins and when erected assume the form of a Sugar-Loaf [cone], and in one of those tents ten or fifteen persons will find sufficient space, for when they are there they are always either seated or lying down.' (Harmon, 41)
Harmon was at Fort Alexandria, where he traded with the Siouian Assiniboines, so the tipis he describes could have been Sioux-style.
Tipis were made of white leather (Henry, 382), and there are many references to leather tents in fur trade journals. Alexander Henry the Younger constantly complains about his leather tents. '[I was] happy to get clear from that smoky dwelling,' he writes of his leather tent at Rocky Mountain House (Henry, 657). His wet leather tents are too heavy to move, and can 'heat and spoil,' so time is lost waiting for them to dry (Henry, 634, 637). 'Leather tents become leaky and uncomfortable dwellings when situated long on the same spot.' (Henry, 619)
Some journal entries mention traders obtaining tents from Natives. William Tomison's Edmonton House journal of April 9, 1799 notes that he 'Traded some provisions, tents and shoe leather from the Indians that arrived on the other side [of the river] yesterday.' (Johnson, 162). A week later, on April 14, he traded two more tents from them. These were 'Muddy River' Indians, today known as the Peigans of the Blackfoot confederacy. Tomison may have needed to acquire tents for his men for that spring's voyage to the Bay. In 1810, near Edmonton, Alexander Henry the Younger writes 'Got a leather tent from Soldier ...' (Henry, 632). Soldier was a Native hunter who was camping with some Cree. The HBC's Peter Fidler traded three tents to Natives in 1802, but in each case the exchange took place under unusual circumstances : two tents were part of a very large payment for a slave (the deal later fell through), and the third was traded as Chesterfield House was being abandoned under threat of attack (Johnson, 311, 321).
Traders from the North West Company and Hudson's Bay Company were accustomed to visiting Native tipis and to being guests in them for extended periods, so they would likely be comfortable with using tipis themselves. I should also note that not all tipi-style tents had large smoke flaps. They may have had smaller flaps, like those shown in a 1743 sketch by the HBC's James Isham (Williams, 18). A sketch by George Back made in 1820 shows Plains Cree tipis with no visible smoke flaps (Dempsey, 50; also in Macdonald, 21). Not every tipi-style tent had a tipi liner on the inside, either. They are not mentioned in either of the accounts above, and two period sketches of tipi interiors do not show liners : Peter Rindisbacher's Indian Women in Tent, c. 1830 (Gilman, 78) and Robert Hood's sketch of the interior of a Woodland Cree tipi, made in 1820 (Dempsey, 58) both show tipis with no liners.
Now for a small digression : Thompson relates an incident that illustrates just how strong a tipi could be (among other things) and it's just too good a story to omit here. Two men, Budge and Mellam, were camping on their way back to York Factory. They were accompanied by Mellam's country wife. One evening, cooking smells attracted a polar bear to their tent. The bear circled the tent, and then stuck its head in the door. Budge panicked and climbed the tent poles inside the tent, leaving Mellam and his wife to deal with the bear. Most of the guns were still wet from cleaning, but fortunately a musket was dry & loaded. The musket went off as Mellam grabbed it, so he held it by the muzzle and clubbed the bear in the head, breaking the stock. He continued to hit the bear with the barrel and lock still in his hands. Meanwhile, Mellam's wife snatched up an ax, and started hitting the bear in the head with it. This assault from both sides discouraged the bear, and finding that tent poles kept him from getting into the tent, the bear decided to go dig into the food cache outside the tent. Mellam quickly dried a gun, loaded it with two balls, and shot the bear dead. Budge now decided that it was safe to come down from the top of the tent ; however, he found that he was mistaken : '...the Woman with her axe in her hand (2˝ lbs) heaped wood on the fire, and threatened to brain him if he came down.' Mellam took the axe away, but the woman never forgave Budge for his cowardice (Thompson, Narrative, 29).
Getting back to the subject at hand, I feel that there may well have been two different types of tents used by the traders : tipis, which were unusual enough to rate a description ; and 'regular' tents, which were so familiar to the writers of fur trade journals that they were essentially ignored. (Why describe something everyone is familiar with?) Both types would be described by the term 'tent'. I think that the 'regular' tent of my hypothesis would be the wedge tent.
Whatever their style, tents were made from a wide variety of fabrics : Russia sheeting (twill-woven linen–Minhinnick, 82), oilcloth, gray cotton (unbleached canvas?), vitry (a kind of light durable canvas), and raven duck (a kind of canvas) (Henry, 1, 441-443; Thompson, Narrative, 110; Johnson, 70). There are also many references to leather tents. In a 1796 letter from York Factory, Joseph Colen complains 'Only 100 yards of vitry sent out this season, out of which Mr. Oman has had a tent made. No raven duck to be purchased [in England]. What we shall do for tents next summer I know not.' (Johnson, 70). These shortages may have been due to a demand for tent cloth by the Army due to the war with France. Colen's frustration suggests that leather tents are either unfamiliar or undesirable to him. Leather tipis were used on the plains hundreds of miles from York Factory.
Tent poles were often made at the campsite rather than dragging them from camp to camp, unless it was known that there were would be no trees suitable for tent poles at the next camp (Henry, 312 ; Thompson, Columbia, 13). The job of pitching the tents likely fell to the country wives, just as it did to their Native mothers (Henry, 634).
What about sleeping arrangements inside your tent? The Hopkins painting mentioned at the beginning of this article shows voyageurs sleeping right on the stony beach, but sometimes bough beds provided a soft place to sleep.
'To make a place to lie down, the people scraped away the Snow and lay down a few Branches of a species of Pine...and then upon the top of that, a Blanket or two, and where after a Day of hard labour I am persuaded a person will sleep as sound as if on a Feather Bed.' (Harmon, 34).
In general, this is one historical practice that isn't wise or practical to reproduce. However, if you are cutting new tent poles in the Forest Reserve anyway, you might want to keep bough beds in mind and plan to follow up your pole-cutting trip with a primitive camp.
Where can you get an historic wedge tent or tipi today? See 'Factor's Cassette' in this volume (pp. 37-39) for information about wedge tents. It is possible to mail order tipis, but look in the local yellow pages first ; here in Calgary, there are two tent manufacturers specializing in tipis, and two more that make tipis along with other types of canvas tents. If you decide to go with a tipi, I strongly recommend you resist the temptation to paint it. Painted lodges were very rare in the early 1800's and earlier (Jennys, 47). Also, even today painted tipis are strongly associated with Native religion, which puts ownership of one perilously close to being both 'un-Christian' and 'going Native' from the 18th century viewpoint (Ewers, 114-115). If you just can't resist, maybe you could paint it in a very European style. For example, you might put your name on it in two-foot-high letters, or paint a picture of the company flag, or a picture of a fur fort. I strongly recommend keeping your tipi cover white, though.
No matter what you do, I'm sure you'll enjoy the extra dimension that having an historically correct period tent will bring to your reenacting experience.
Barr, John. Britain Portrayed : A Regency Album 1780-1830. British Library : London, 1989.
Brown, Craig (ed.). The Illustrated History of Canada. Lester & Orpen Dennys : Toronto, 1987.
Darby, Samuel L. The Sketchbook on the Tents of the Fur Trade. Panther Press : Normantown, West Virginia, 1987.
Dempsey, Hugh A. Indian Tribes of Alberta. Glenbow Museum : Calgary, 1988.
Ewers, John C. The Blackfeet : Raiders on the Northwestern Plains. University of Oklahoma : Norman, Oklahoma, 1958.
Gilman, Carolyn. Where Two Worlds Meet: The Great Lakes Fur Trade. Minnesota Historical Society : St. Paul, 1982.
Harmon, Daniel Williams. Sixteen Years in the Indian Country : The Journal of Daniel Williams Harmon, 1800-1816. W. Kaye Lamb (ed.) Macmillan : Toronto, 1957.
Henry, Alexander (the younger). New Light on the Early History of the Northwest : The Manuscript Journals of Alexander Henry... Elliot Coues (ed.) Reprint-Ross & Haines : Minneapolis, 1965. Originally published 1897.
Jennys, Susan. 'The Tipi in the Early 1800's : What About the Outside?', in Muzzleloader, January/February 1996. pp. 45-49.
Johnson, Alice M. (ed.) Saskatchewan Journals and Correspondence : Edmonton House 1795-1800, Chesterfield House 1800-1802. Hudson's Bay Record Society : London, 1967.
Josephy, Alvin M. (Jr.). The Artist Was a Young Man : The Life Story of Peter Rindisbacher. Amon Carter Museum : Fort Worth, Texas, 1970.
Macdonald, Robert The Uncharted Nations : A Reference History on the Canadian Tribes. Ballantrae Foundation : Calgary, 1978.
Mackenzie, Alexander. The Journals and Letters of Sir Alexander Mackenzie. W. Kaye Lamb (ed.) Cambridge University Press : London, 1970.
Newman, Peter C. An Illustrated History of the Hudson's Bay Company (formerly Empire of the Bay). Viking Studio/Madison Press : Toronto, 1995.
Newman, Peter C. Caesars of the Wilderness. Viking : Markham, Ontario, 1987.
Thompson, David. Glover, Richard (ed.) David Thompson's Narrative, 1784-1812. Champlain Society : Toronto, 1962.
Williams, Glyndwyr. 'The Hudson's Bay Company and the Fur Trade : 1670-1820', The Beaver, Autumn 1983. Reprinted 1991.